My First GSXR 750
The first time I saw a GSXR 750 was at the 1985 Vancouver international motorcycle show which, if I remember correctly took place sometime in January of 1985.
I can remember it as clear as day. There were a bunch of us who grew up and hung out together and amongst other things, we shared a passion for motorcycles, cars, girls, music, etc. I was with some of the guys at the motorcycle show and we were going from exhibit to exhibit when we rounded a corner and facing us was a blue/white 1985 GSXR on a pedistal, dual headlamps aimed directly at us. At the time I loved the look of the 70's/80's race bikes with their fiberglass fairings and the GSXR 750 ticked all the boxes on my list of things that made a great road bike. It was the stuff that dreams were made of. It looked like it was breaking the sound barrier while it was just sitting on its side-stand. I couldn't imagine what it would be like to ride and with a price tag of $5,900.00, it wasn't likely that I would be finding out any time soon. 
That year I continued riding my 1973 Suzuki GT-750, which I had had for a few years and was a bit of an animal itself as long as you kept it in a straight line. To catch a glimps of the elusive GSXR, I would head on up to the local racetrack (Westwood Raceway) whenever possible to watch the superbikes of the day duke it out. At that time it was Interceptors vs. FZ750 vs. GSXR750 and I knew most of the guys racing by sight if not in person. These guys were pretty amazing, if it had two wheels and an engine, they would race it. 
My chance to actually own a GSXR 750 came up the next January while I was hanging out at the local coffee shop trading bike stories and looking forward to better riding weather in the spring. One of the guys was working at Vancouver Suzuki (VS) which was part owned by Gary Goodfellow and was sort of the hub of our local race scene. Any day at the shop you might run into Gary Goodfellow or Rob Holden, Steve Trinder, Rob Walters, Steve Crevier and many others who I just recognized from the race track in passing.
My buddy who worked at VS asked me what I was planning to ride that year. I said I was thinking of getting a Rickman fairing for the GT-750, put on a set of rear-set shifters/pegs and get it painted up all racey. He said yeah, that sounds like an idea, or... You could save a lot of time and just buy a GSXR750. I'm pretty sure I countered with some talk about the financial odds of being able to afford a bike of that calibre vs. hell freezing over and pigs flying out of my butt but he insisted that Gary was selling his last year's race bikes and he could secure me a "gently raced" 1985 GSXR 750 for the wholesale price... I was sold!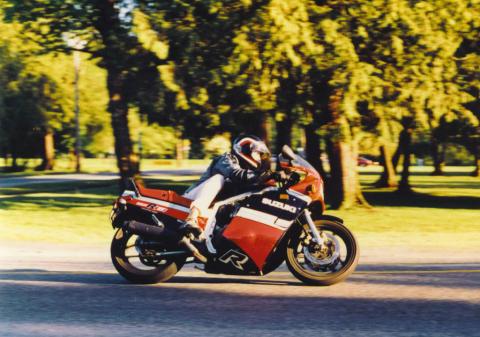 January 30th, 1986 I signed the papers and picked up my 1985 GSXR 750, which I still own. It is one of three GSXR's I own and my main bike. It's not as quick as todays superbikes and it's not as fast as litre bikes but it's got everything I'm looking for in a sport bike. I'll elaborate in another post on some of the interesting handling characteristics I encountered that some people refer to as the steering being twitchy or nervous but at the moment the suspension and steering has been slightly modified (updated) and it is a pure joy to get into twisty corners and fast sweepers.
Happy riding,
Andrew