Motorcycles 1
Condition:
Modified
Project
Off the road (not in service)
Photos: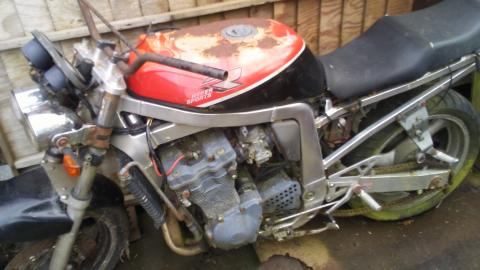 History:
Normal
0
Bought in 'Street Fighter' guise. Vandalised by thieving toe-rag/s outside my house. Starting to rebuild/repair. Old girl had a hard life, like me. Would add picture but she is in a sorry state since her 'attack'. Will add some when I get her spruced up.
May 2019
Finally got some time and money to make a start on the old girl.
When I took the cover off, I found that condensation had destroyed the tank, rusted beyond repair and made a mess of her.
After clearing the cobwebs out of everything and evicting the spiders, I can now begin.
Found a perfect tank, in a colour that would please both my daughter and granddaughter, as it was of a multicolour hue that changed to both their favourite colours, purple and green.
As usual, my luck gremlins struck, as the Royal Mail managed to put a dent in it during delivery, even though it had been wrapped up very carefully by the seller.
Just got a pair of 6 pots delivered, as it worked out cheaper than refurbishing the existing 4 pots.
Need to order cables, brake hoses, loom, all chopped through by the aforementioned toe-rags, along with carb-refurb kits and a "few" other bits and pieces and I am off running, well limping anyway.
I thought I may as well put up a picture to show where I am starting from.